Lets go fishing for World-class salmon and other big gamefish in the waters of San Francisco Bay and the Pacific Ocean...
Captain Roger Thomas offers a lifetime of fishing experience and a large, fast, comfortable boat to fish from. There may be big fish; there may be many fish. You will always be given the best possible chance to catch your next limit whether we are trolling, mooching or drifting with live bait!
Bring a few friends for a day of fishing, or charter the whole boat and bring pizzas and a keg of beer.
We are easy to find, berthed in Sausalito's Clipper Yacht Harbor and very close to the Golden Gate and the best fishing grounds from the San Mateo & Marin County Coast to the Farallon Islands. Call Captain Thomas for the latest fishing news and space availability: (415) 674-3474.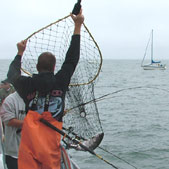 Half limit of salmon
Salmon Have Returned!
Reserve now for this season.
Fishing San Francisco waters for:

Salmon


Striped Sea Bass (Stripers)


Halibut


Rock Cod


Lingcod


Albacore Tuna


Sharks
Charter the Salty Lady for:

Deep Sea Fishing


Pot Luck Bay Fishing


Live Bait Fishing


Fishing Derbies


Whale Watching


Incredible Sightseeing


Floating Parties


Funerals/Burials at Sea
"The day was a slow one for the fleet... then the Captain had us reel up before moving to one of his favorite little holes off the Marin Coast. We pounded them [king salmon]..."
~ Salty Lady Fisherman